ValhallaRoom was recently reviewed by Computer Music Magazine. A few choice quotes:
There's a Lexicon influence evident and we were able to achieve similar results to both Lexicon's PCM Native Reverb Plug-in Bundle and SSL's classy X-Verb. This is especially impressive taking into account the enormous price difference.

The fact that ValhallaRoom contains four different algorithms and is so competitively priced makes it a steal for anyone after a versatile reverb or something to complement their convolution collection.
A review of both ValhallaRoom and ValhallaShimmer has been posted to the Motion Pictures Editors Guild website. Some quotes:
VahallaRoom uses an algorithmic, rather than convolution, reverb.  The reverb marketplace has many fine competitors both in software and hardware, and so many of them sound really great.  But I have not heard anything short of upper-tier plug-ins like Avid's Revibe perform such excellent sounding room reverbs.

The impression one gets when hearing them is a sound very much like the Lexicon classic reverbs––specifically the 224X/XL, the 300 and the 480L.  If this plug-in is piped into an upmixer, it would hold its own against anything out there regardless of price.

Costello's first plug-in, Vahalla Shimmer, is similarly noteworthy.  Its focus is more about surreal reverbs and spaces, and it has a good deal of fun capabilities that can get you creating David Lynch-ian soundscapes in quite literally seconds.
Finally, BT had some nice things to say about ValhallaRoom in a recent tweet: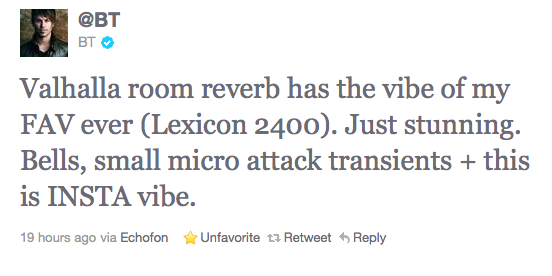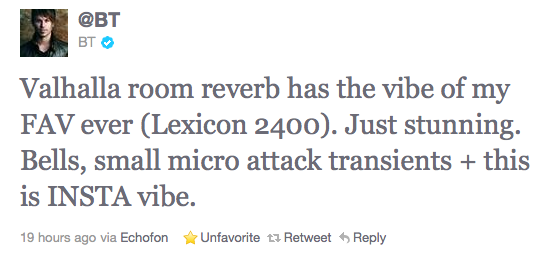 All of the above is in the public discourse, and stands alongside all the positive forum posts and private emails that I have received from Valhalla DSP customers. I appreciate your support! I feel very lucky that I am able to get my algorithms in the hands of musicians, and I am very grateful for all of Valhalla DSP's customers.