We are happy to announce the release of the Valhalla VintageVerb™ 2.2.0 update. The biggest update to VintageVerb? The new reverb mode, Cathedral!
Valhalla Vintage Verb: Cathedral Mode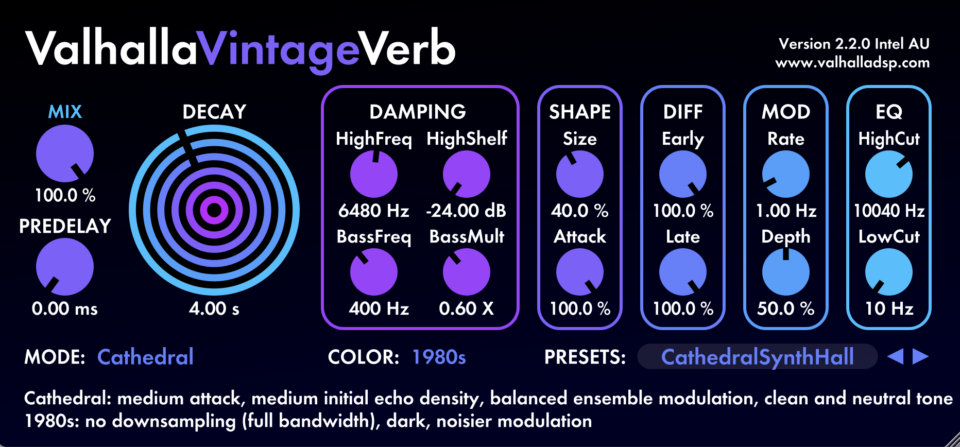 Inspired by the FV-1
The Cathedral mode is based on an algorithm I developed for the Spin Semiconductor FV-1 in 2014. The FV-1 is a fun little DSP, but it is severely limited in delay memory, and is optimized to work with specific reverb architectures. Cathedral was my favorite algorithm I developed for that chip, with a big diffuse sound and ensemble style modulation.
Bringing Cathedral into VintageVerb meant I could use a lot more delay memory, for a bigger more expansive attack and decay, as well as a more open and transparent sound. The original FV-1 algorithm corresponds to a Size setting of 50%, while sizes greater than 50% will get closer to a real-world cathedral. The VintageVerb version of Cathedral also has a much more comprehensive Damping section, which allows for high frequencies to smoothly decay away as found in large acoustic spaces. We've retained the ensemble modulation, with the Rate and Depth controls allowing the user to dial in the perfect amount of lush chorusing.
Best for Huge Synth Verbs, Vocals and Acoustic Instruments
The Cathedral algorithm is perfect for huge synth verbs, but is also well suited for vocals and acoustic instruments. Set the Size to a lower value, and Cathedral can create some convincing drum rooms. In this example, I'm using Cathedral on synth for a big reverb, as well as a shorter drum reverb:
We've also modified the information text in the upper right corner of the plugin, so that the user can tell at a glance the version number, the type of plugin running in the DAW (VST/VST3/AAX/AU), and Intel versus ARM when running on a Mac.
Cathedral Mode is FREE for Vintage Verb Owners!
If you already own VintageVerb, the update is in your user account, so log in and grab the latest installer. If you don't own VintageVerb, feel free to grab the demo from our new Demo and Downloads page, and check out Cathedral and the other 18 reverb algorithms that are unique to VintageVerb. We hope you enjoy the VintageVerb update, and thanks for your support!