We've updated ValhallaVintageVerb to 2.0.2. The new features in the 2.0.2 update:
New reverb mode: Chaotic Neutral
VST3 (in addition to VST 2.4, Audio Units, AAX)
Fix to the Ambience mode. Some users have reported strange "echoes" when using the Ambience mode in the past. This was due to an uninitialized variable that we tracked down and initialized.
So, let's circle back to the big news: Chaotic Neutral! As the name suggests, Chaotic Neutral combines chaotic delay modulation (as featured in the Chaotic Hall and Chaotic Chamber modes introduced in the 1.7.1 VintageVerb update) with a more neutral tonality.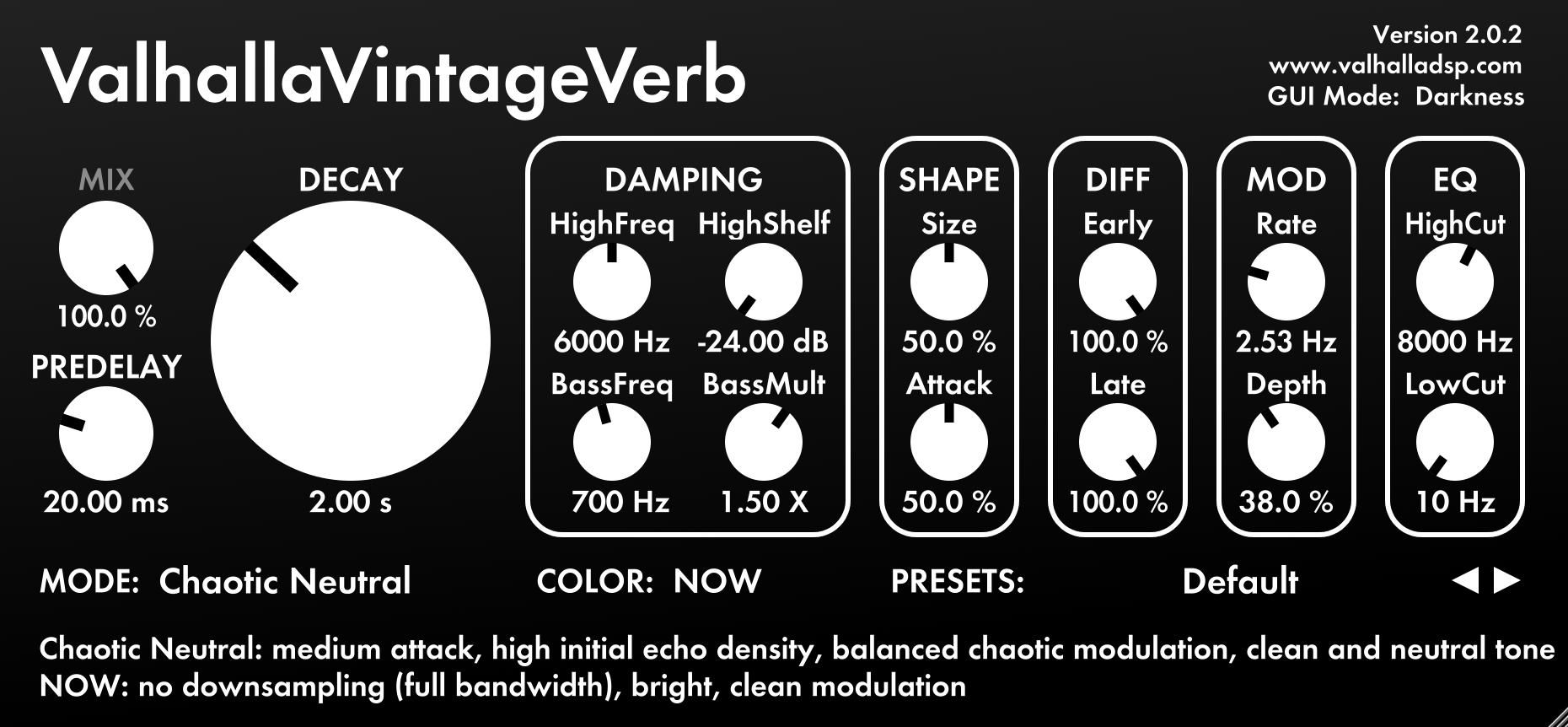 The "Chaotic" modulation uses a more complex waveform than heard in many algorithmic reverbs. In Chaotic Neutral, the modulation is applied in such a way that less audible pitch change is heard, even with higher mod rates and depths. The modulation is also distributed in the algorithm in a way that can produce an "icier" sound than the other VintageVerb algorithms, which I personally find really nice sounding.
The "Neutral" in the name is a hint as to the overall tonality. Chaotic Neutral has less metallic resonances than most vintage-style reverb algorithms, and can sound more colorless and open. In a word, neutral. The goal was for Chaotic Neutral to sound like whatever signal you put into it, just sustained in time.
Chaotic Neutral is based on a different type of "classic" reverb topology than the other algorithms in VintageVerb. At large settings of size, the reverb decay may end up sounding longer than what the Decay dial is set to. For smaller rooms and shorter, we suggest setting Size to a lower setting than many of the other VintageVerb algorithms. Chaotic Neutral can sound much less metallic at shorter size settings than many of the older reverb algorithm designs.