We are happy to announce that all of the Valhalla plugins are officially compatible for M1 Macs! There's a lot of confusing terminology around this, so I'm going to restate this sentence in a bunch of different ways:
The Valhalla DSP plugins have been built to run as both native Intel and ARM (Apple Silicon) plugins.
The Valhalla plugins are all now Universal Binary 2 plugins
The Valhalla plugins no longer need Rosetta2 to run on M1 Macs (with a few caveats noted below)
We've had the M1 builds of all plugins in user accounts as beta versions since January. A few weeks back, we decided to make this official, so we got rid of the "beta" designations of the installers in user accounts, and also built new demo versions of the plugins as Universal Binary 2 for Intel and Apple Silicon.
So, what does this mean? For starters, any of the following DAWs can now run as native M1 apps, and can host the Apple Silicon / M1 / ARM / Universal Binary 2 builds of the Valhalla plugins:
Apple Logic
Apple GarageBand
Apple MainStage
Bitwig Studio 4
Reaper
The Valhalla plugins now display "Intel" or "ARM" in their upper right corner, which identifies whether they are running the Intel or ARM build. This is a convenient way of telling whether your DAW is running in Rosetta 2 or as a native Apple Silicon build: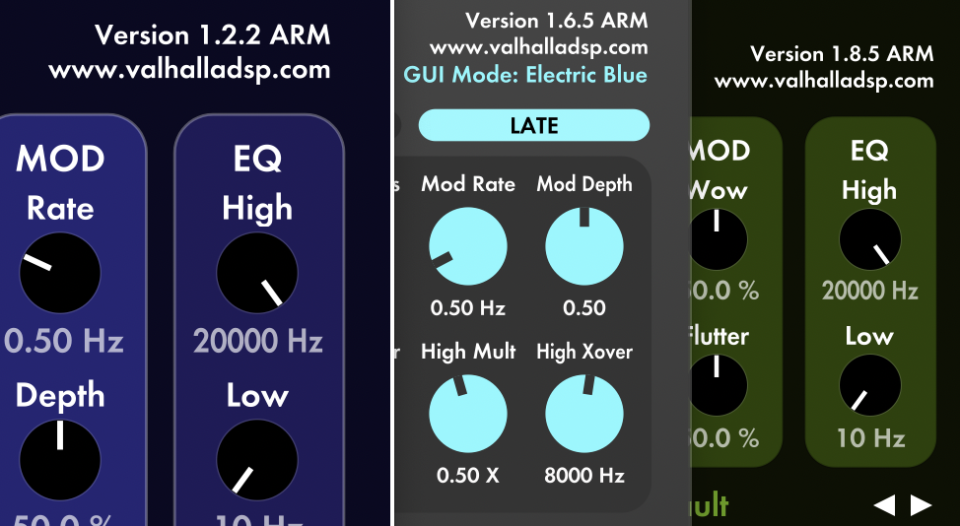 If you are running any other DAW on an M1 Mac, you currently need to run it in Rosetta 2. Additionally, the Valhalla plugin installers require Rosetta 2 in order to install. The plugin builds are UB2, but the installer application itself is a standard Intel installer. It turns out that installers built on Big Sur M1 Macs can only run on the last few Apple OSes, so this choice was made in order to have a single installer work for OS 10.9 through Big Sur.
All of the new Intel / ARM builds work on older Intel Macs as well (that's the "Universal" part of "Universal Binary 2"). And, of course, all of the plugins work in Windows as well. The M1 updates have just been to the Mac part of the code, so Windows customers aren't missing out on any cool new features.
On a personal note, I've been using an M1 MacBook Air as my main development machine since December 2020. It is blazingly fast, lightweight, and no fan noise. It also makes cross-platform development easy, as all builds on this machine are Intel & ARM by default. If you are looking for a new Mac, I would recommend waiting a few weeks to see what is announced at WWDC, as the next generation Apple Silicon machines may be announced at that time. In any case, I am loving using my M1 MacBook Air right here and now!