I am a bit of a reverberation algorithm fanatic. For 10+ years now, I have read every paper I can find on reverb design, and have listened to every hardware and software reverb I can lay my hands on. I have created literally hundreds of reverberation algorithms during that time. Most of them sucked. Some of them are pretty good.
As a reverb snob, I have tended to avoid working with the algorithms that people refer to as "Schroeder Reverbs." Generally speaking, these refer to 4 or more parallel comb filters (delay lines with feedback) of unequal length, with the outputs summed and run through two or more allpass delays. There are many published examples of such reverbs, and most of them sound pretty bad: ringing, metallic, etc. Even the famous Freeverb algorithm has these qualities, at least to my ears.
However, the "Schroeder" reverb as it is commonly known is only one of several reverberator algorithms that were disclosed by Manfred Schroeder in his early papers. In his seminal 1962 AES Paper, "Natural Sounding Artificial Reverberation," Schroeder describes 2 algorithms:
The parallel comb filters into series allpasses, as described above.
Series allpass delays. Schroeder describes a reverberator using 5 allpass delays in series. This type of reverberator can have a less-colored sound than the parallel comb filters / series allpass approach. However, the amplitude response can become very "Gaussian," and the allpasses can still display a metallic sound.
Schroeder describes a way of mixing the input and output of the series allpass reverberator, in such a way that the resulting sound is allpass. The algorithm consists of a single delay line, feeding into 5 series allpass delays, with allpass feedforward/feedback around the whole structure: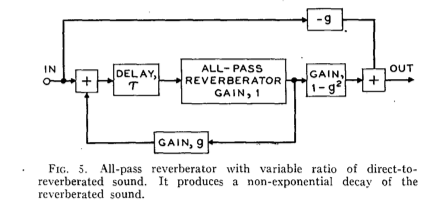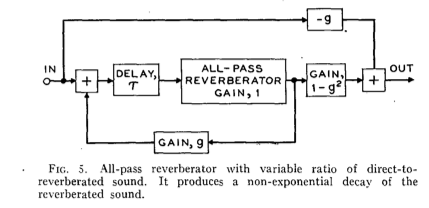 Schroeder acknowledges that such a reverberator would have a non-exponential decay. What Schroeder does not seem to recognize in his paper is that this is a fundamentally different algorithm than the simple series allpass reverb. By turning the "wet" gain up, the coefficient of the outer allpass is increased, which will result in an echo density that increases with time, as well as a longer reverb time.
Why is this important? The reason this is notable is that real rooms and acoustic spaces have an echo density that increases with time, while the parallel combs and series allpass reverberators have a constant echo density. By placing the allpasses in a feedback path, a much more natural reverberation decay is created. Schroeder's paper is the first description of a nested allpass delay that I have found in the literature. The idea of putting allpasses inside of delayed feedback loops is fundamental to the algorithms of Lexicon, Alesis, and other high end reverberator manufacturers, and is still used to this day.
I have implemented the Schroeder nested allpass reverberation algorithm before, and it sounds surprisingly good. People have looked at Schroeder's claims of "natural sounding reverberation" with skepticism, and attributed it to how long it took to render the sound in 1962, the type of material being reverberated, and so on. Undoubtedly it was difficult to audition the sound under such circumstances, but I am now of the belief that Schroeder was using the nested allpass reverberator in his experiments, and might have been getting better results than what he is commonly credited with.